Company name
Shoujirou hasami hamono kougei Ltd
Location
697-1 Matuzaki Naritashi, Japan. Zip 0286-0846
Representative
Yoichiro Ishizuka
Phone number
0476-26-8061
FAX
0476-26-8061
Establishment
April, 1989
Handling product
scissors, kitchen knife, sickle etc
Craftsman
The 5th generation Shoujirou
Ishiduka Youichirou

The 6th generation
Shoujiro Ishizuka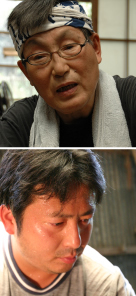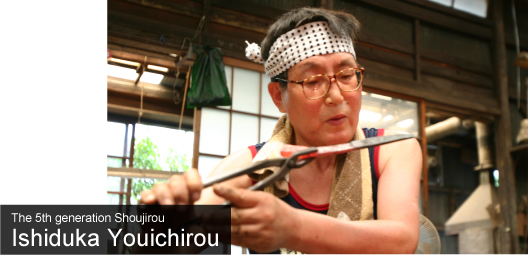 Late father Shoujirou succeeded to the technique that late Chotaro of the grandfatherstudied under founder Yajuuro Yoshida of shears in our country and acquired.
In 1968, studied under former ages Shoujirou.In 1989, it was the 5th generation in succession to the name.
It is beating knife smith of the traditional total fire polishing to make all by hand and swat it and thin one steel materials with a hammer or cut it and make scissors after many processes,the technique handed down from old days called "total fire polishing" is appointed in a folkcraft of the Chiba designation.The total fire polishing is the tradition manufacturing method to beat iron which heated well, without using a model, and to make form.
Follow the same path with a production technology of the Japanese sword from ancient times.
The sharpness having the product of our store not to mention sharpness for a long time,and the feature is that it is hard to be rusted.
There is a person thinking that care is troublesome, but it usable for dozens of years
because beating knife which forged is strong.
Please try one article of the best sharpness.